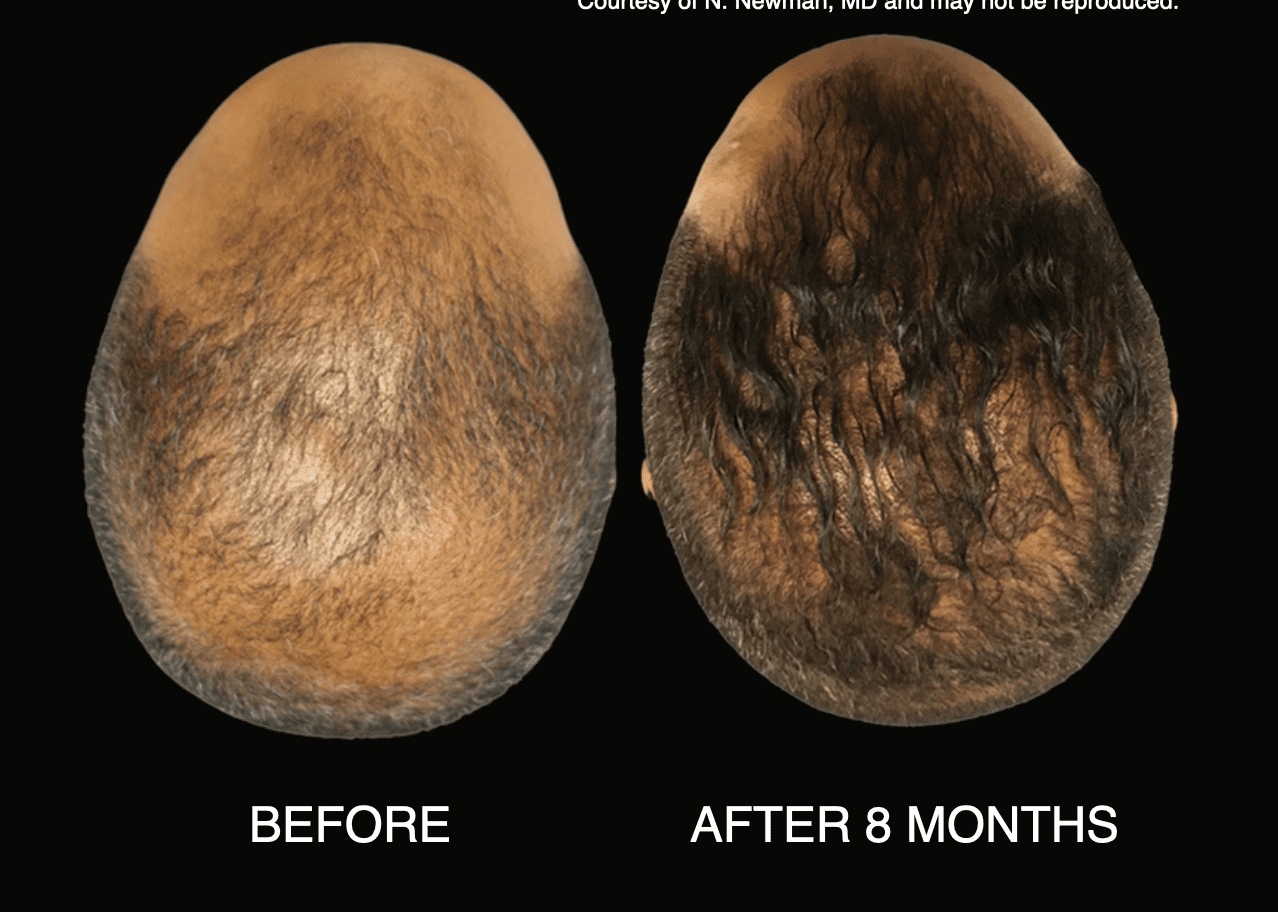 Unlock your hair's potential with DeRive, the groundbreaking hair restoration treatment powered by the cutting-edge technology of plant-based exosomes. Say goodbye to thinning hair and embrace a luscious, vibrant mane that exudes confidence and vitality. Discover the future of hair restoration with DeRive. 
At Highline, we understand the emotional toll that hair loss can take. Our mission is to empower you to reclaim not just your hair but also your self-assurance. Discover our cutting-edge hair restoration treatment, meticulously designed to combat hair loss and reignite the fullness and vitality of your locks.
Why Choose Highline for Hair Restoration?
1. Expertise You Can Trust:
Our team of seasoned hair restoration specialists brings a wealth of experience and a passion for helping clients regain their confidence through effective, personalized treatments.
2. Advanced Technology:
Benefit from the latest advancements in hair restoration technology. Our treatments leverage cutting-edge techniques to promote natural hair growth, providing results that you can see and feel.
3. Tailored Solutions:
No two individuals experience hair loss in the same way. At Highline, we offer personalized solutions crafted to address your unique needs, ensuring a customized approach to your hair restoration journey.
Our Comprehensive Approach
Consultation and Assessment:
Begin your journey with a thorough consultation. Our experts will assess the root cause of your hair loss, enabling us to create a personalized treatment plan tailored to your specific condition and goals.
Innovative Treatments:
Explore our range of advanced hair restoration treatments, including FDA-approved therapies, regenerative medicine, and precision hair transplantation. Our comprehensive approach addresses both the symptoms and underlying causes of hair loss.  Our basis of hair restoration is our Derive hair system that utilizes growth factors including FGF9 which is proving to the most promising hair loss reversal treatment available.
Check out our blog post on why FGF9 is important for hair regeneration
Ongoing Support:
Hair restoration is a journey, and we are committed to supporting you every step of the way. Benefit from regular check-ins, progress assessments, and a dedicated team that understands the importance of your hair restoration experience.
Rediscover Your Hair, Rediscover Yourself
Before and After Gallery:
Witness the transformative results achieved by individuals who have entrusted their hair restoration to Highline. Our Gallery showcases real success stories.
Book Your Consultation to take the first step towards a fuller, more confident you.
Testimonials
Highline has given me more than just my hair back; it has given me my confidence. The results speak for themselves, and I couldn't be happier."* – Sarah M.
After trying various treatments with minimal success, I found HairRevive. Their personalized approach made all the difference, and I'm thrilled with the results." – James L.
Embark on Your Hair Restoration Journey
Reclaim your confidence and rediscover the joy of a full head of hair. Contact us at 720-707-0152 or hello@highlineaesthetics.com to schedule your consultation and embark on your personalized hair restoration journey with Highline.
*Note: Results may vary. Consultation recommended for personalized recommendations.*
Natural and Plant-Based: DeRive harnesses the power of nature to stimulate hair growth. Our plant-based exosomes work harmoniously with your body's natural processes to promote healthy hair follicles and encourage regrowth.

Scientifically Advanced: Developed by renowned scientists and hair experts, DeRive is backed by extensive research and years of innovative studies. Our treatment leverages the latest biotechnology advancements to provide effective and long-lasting results.

Non-Invasive and Safe: Unlike traditional hair restoration methods involving surgery or harsh chemicals, DeRive is a non-invasive treatment that prioritizes your safety and comfort. Experience a gentle and painless procedure that requires no downtime, allowing you to resume your daily activities immediately.

Personalized Approach: At Highline, we understand that each individual is unique. That's why our DeRive treatment is tailored to your specific needs and hair type. Our experts will thoroughly assess to create a personalized plan that addresses your hair restoration goals, ensuring optimal results.

Restorative and Nourishing: DeRive not only stimulates hair growth but also enhances the overall health of your hair. Our treatment nourishes your scalp and hair follicles, revitalizing them from within. Enjoy stronger, thicker, and more resilient hair that radiates vitality.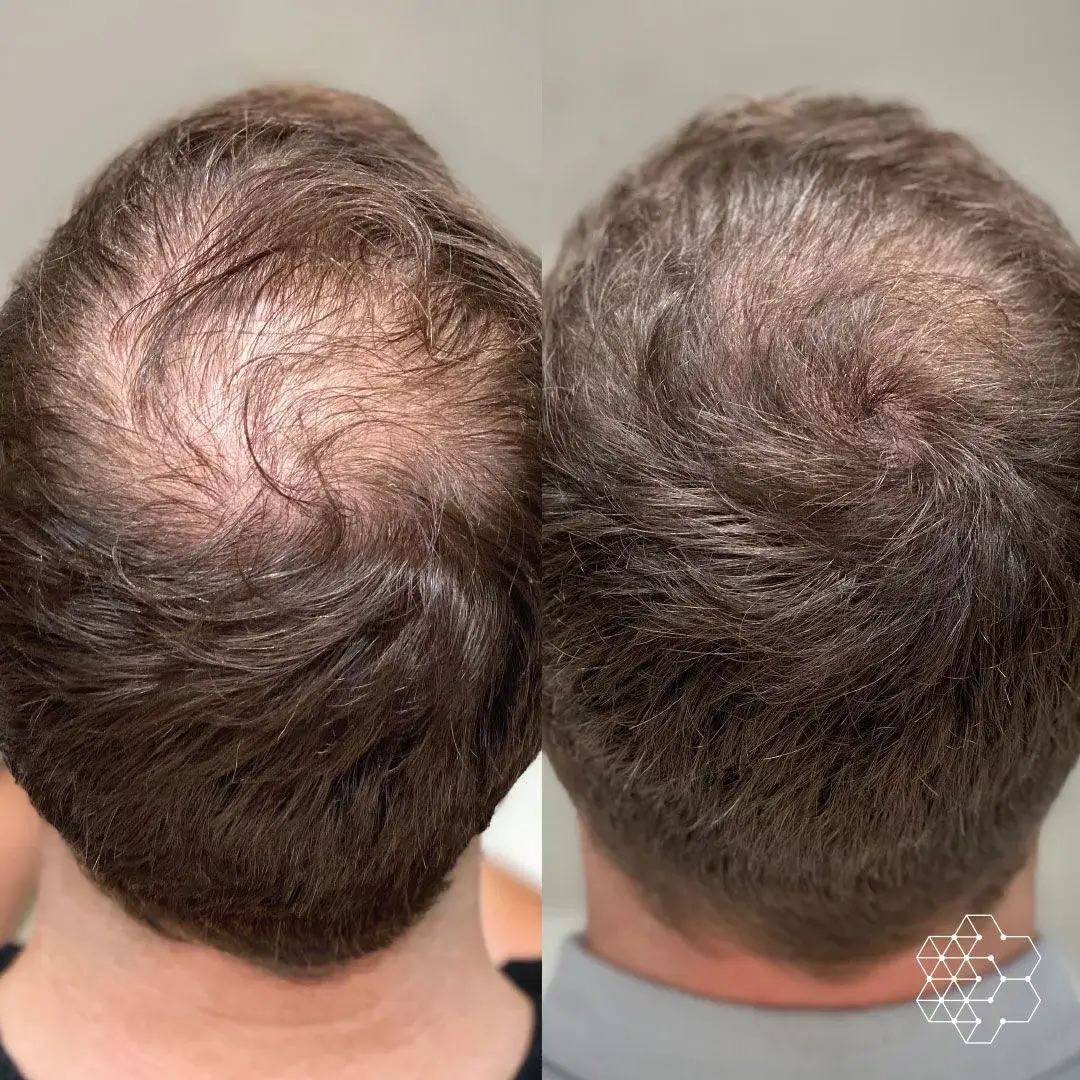 Consultation: Begin your journey to hair restoration with a comprehensive consultation. Our skilled specialists will assess your situation, discuss your expectations, and design a personalized treatment plan.
Treatment Sessions: During each DeRive session, our experts will apply our powerful plant-based serums to your scalp using advanced techniques. The powerful blend of natural ingredients will penetrate your hair follicles, stimulating growth and rejuvenation.
4 Treatments are required.
1 treatment every 4 weeks x3
Then 1 treatment 6 months after the third treatment
Progressive Results: As you progress through your DeRive treatment sessions, you'll notice gradual improvements in the thickness, texture, and density of your hair. Results may vary depending on individual factors, but our team will guide and support you throughout the process.
Maintenance and Support: Once you achieve your desired results, we'll provide guidance on maintaining and nurturing your revitalized hair. Our team is committed to your long-term satisfaction, and we'll be there to answer any questions or provide additional support whenever needed.
Cost of Package of 4: $1600
Package includes all 4 treatments and 1 year supply of home hair growth serum.