Top-Rated CO2 Laser Skin Resurfacing in Colorado
Revitalize Your Skin with Top-Rated CO2 Laser Skin Resurfacing in Colorado
Your ultimate skin renewal therapy!
Skin resurfacing treatments with cutting-edge CO2 laser technology can help you enjoy the transformative benefits of laser therapy. At Highline Aesthetics, we offer top-rated CO2 laser skin resurfacing treatments to the residents of Colorado.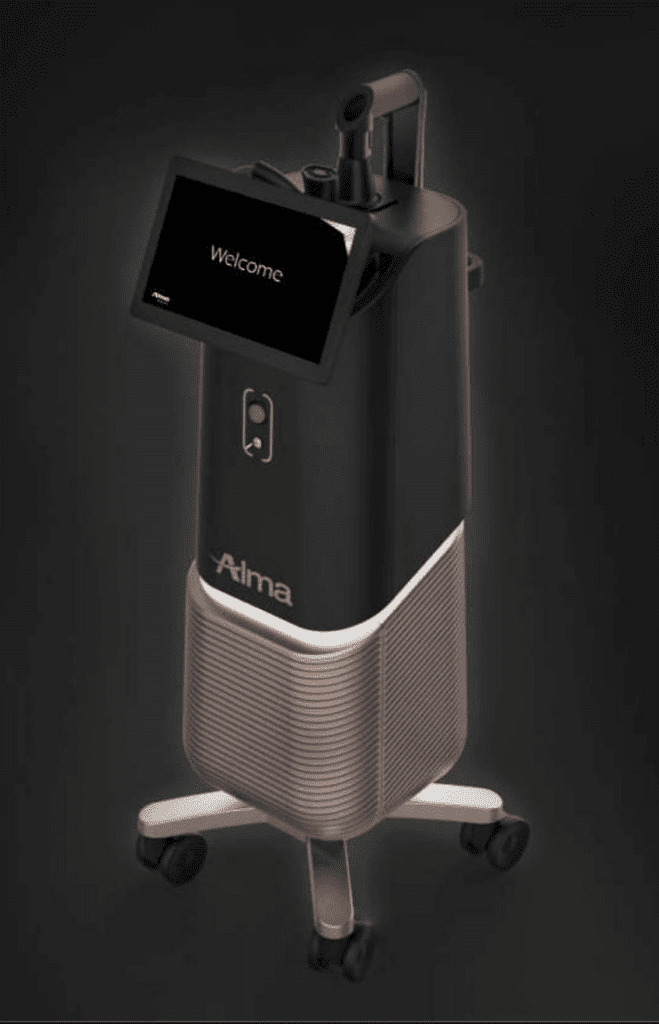 The Hybrid is the next generation of facial rejuvenation lasers.  It is an advanced and versatile cosmetic procedure that harnesses the power of both fractional CO2 and 1570 nm wavelength lasers to address a range of skin concerns. The fractional CO2 laser is known for its ablative properties, effectively removing outer layers of damaged skin and stimulating collagen production. This helps reduce the appearance of fine lines, wrinkles, and scars while promoting overall skin rejuvenation.
The 1570 nm laser, on the other hand, operates in the non-ablative range, allowing it to penetrate the skin without causing significant surface damage. This wavelength is particularly effective at targeting water in the deeper layers of the skin, promoting collagen remodeling and tightening.
The combination of these two laser technologies in a single treatment session provides a comprehensive approach to skin resurfacing and rejuvenation. The CO2 laser addresses surface imperfections, while the 1570 nm laser works beneath the surface to improve skin texture and elasticity.
Patients undergoing a combination CO2 1570 laser treatment can benefit from reduced downtime compared to traditional CO2 laser treatments, as the non-ablative component contributes to quicker healing. This innovative approach is often utilized to address issues such as wrinkles, fine lines, sun damage, and overall skin tone irregularities, offering individuals a more youthful and refreshed appearance with minimal recovery time.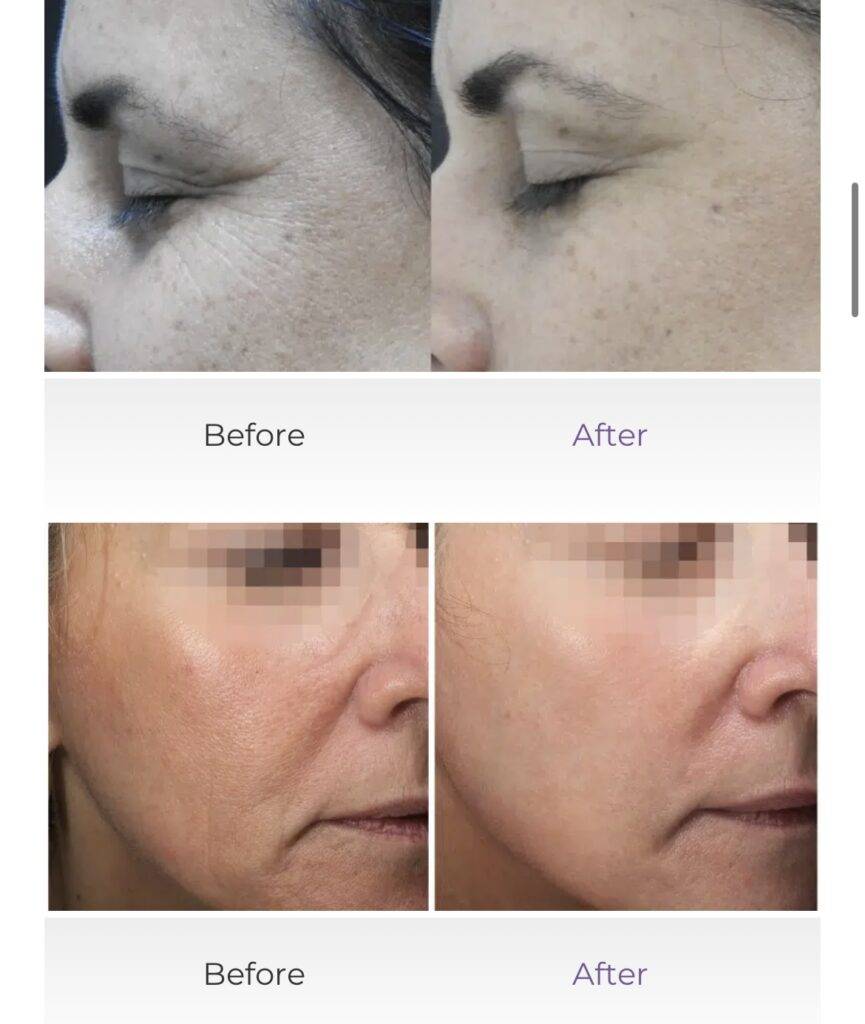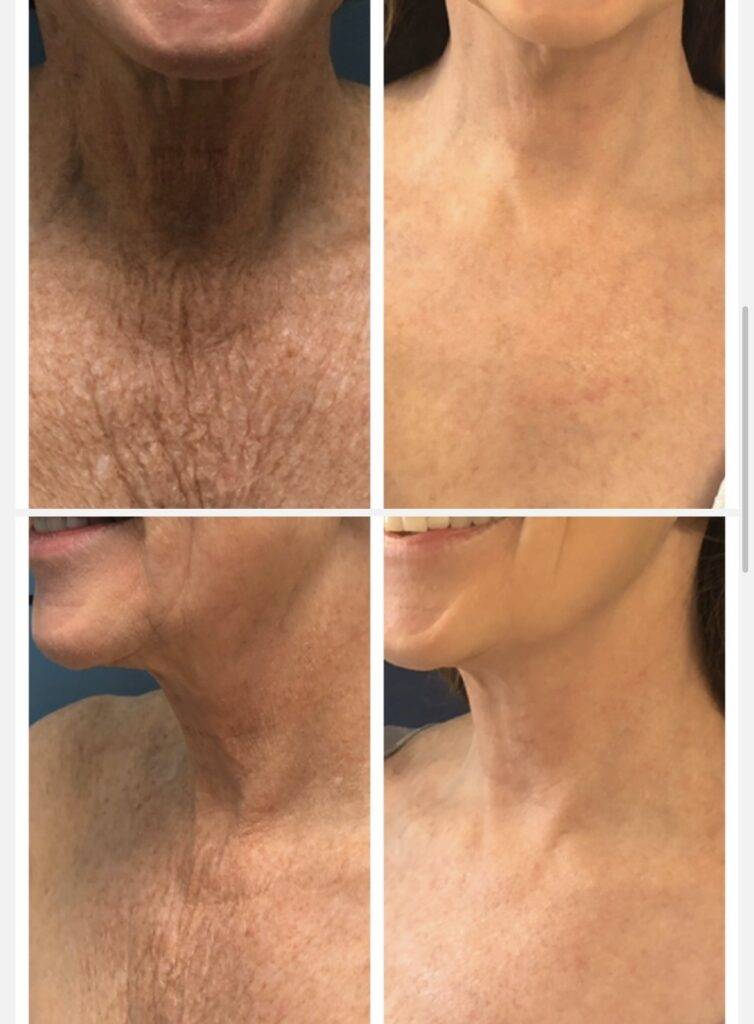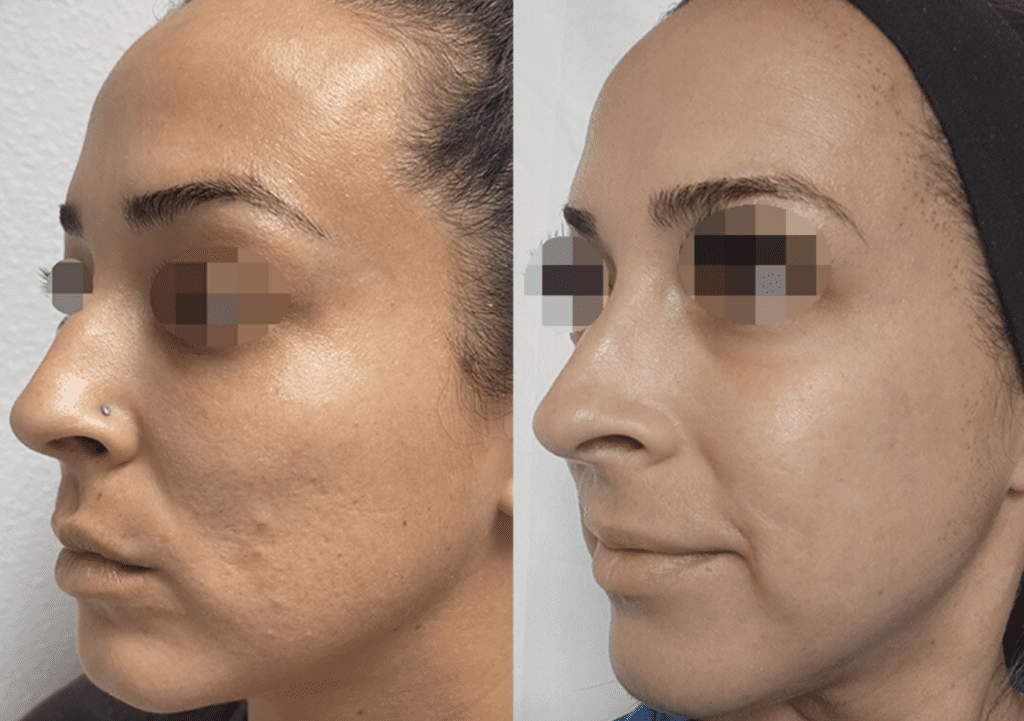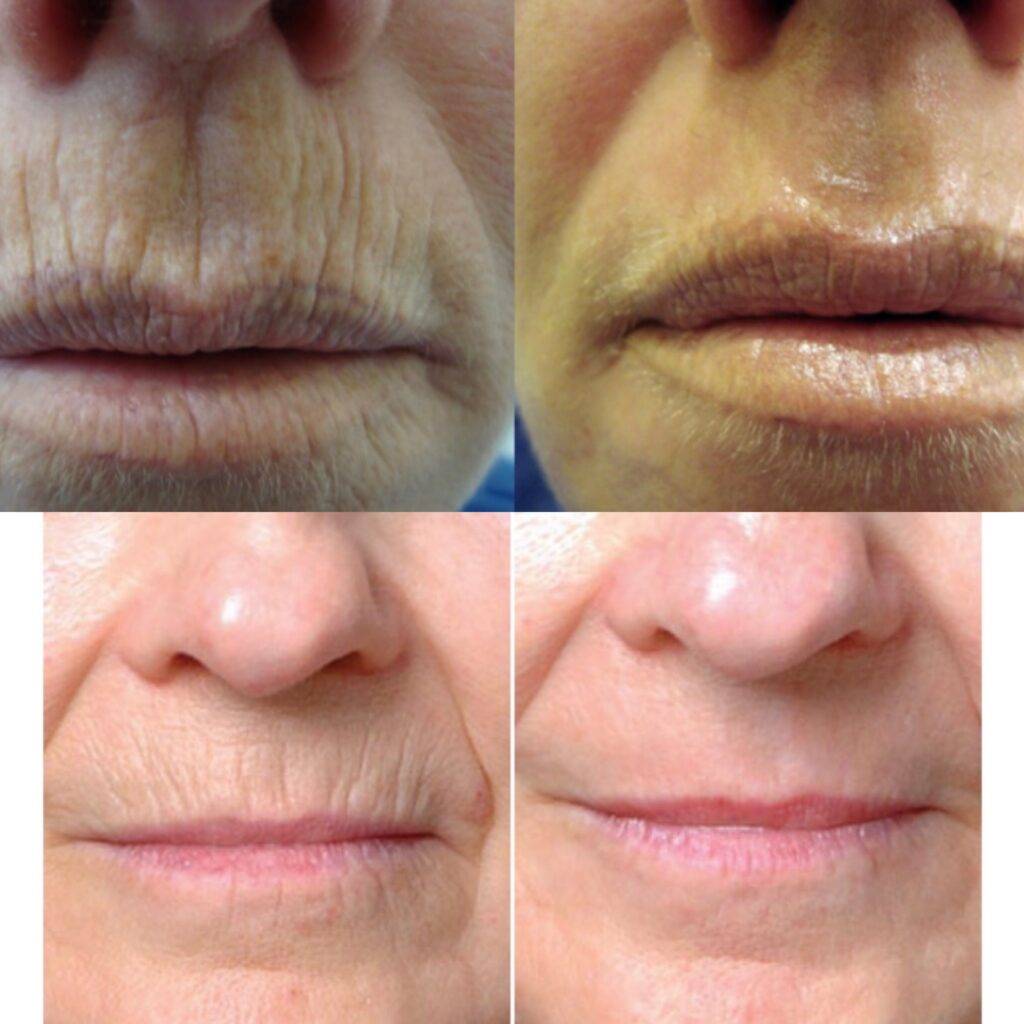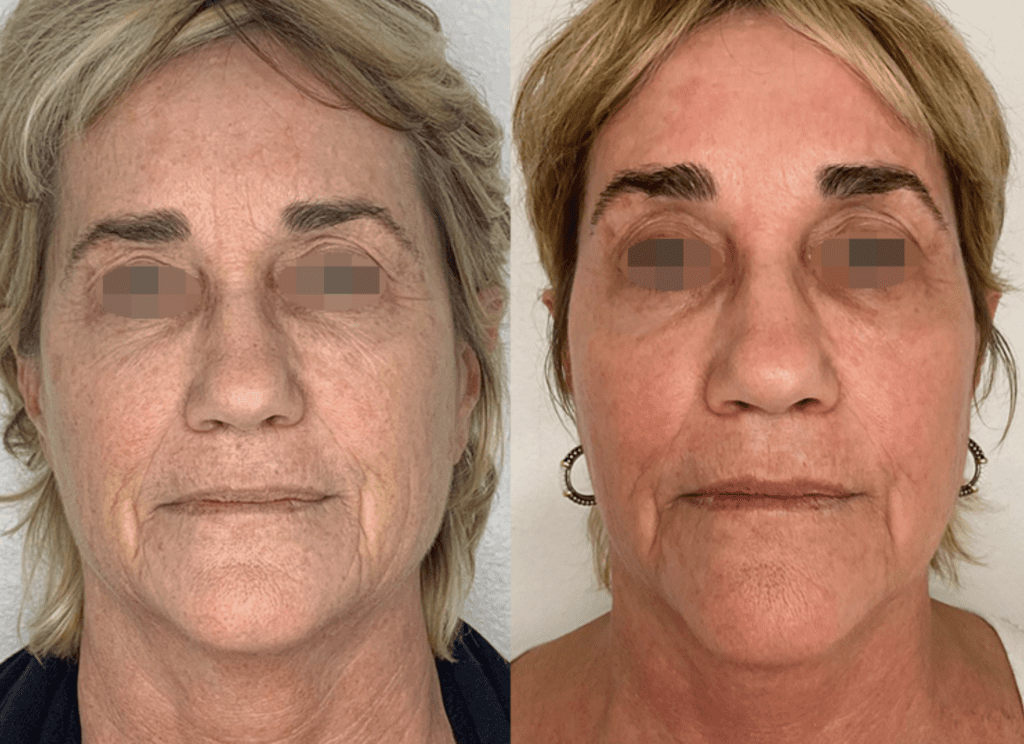 Conditions we treat with CO2 laser skin resurfacing
Sun damage

Skin aging

Lines and deep wrinkles

Burn scars

Acne scars

Uneven skin texture

Warts

Skin laxity

Under Eye creases

Crepey skin

Birthmarks (Linear epidermal nevi) 

Enlarged oil glands on the nose (Rhinophyma) and more!

 
Benefits of CO2 laser skin resurfacing
Renewed youthful look
Turn back the clock with CO2 laser skin resurfacing—a clinically proven solution to treat skin aging, wrinkles, sun damage, loose skin, and baggy eyes
Multiple Benefits
The Hybrid laser is able to target the signs of aging as well as pigmentation.  You can achieve optimal results with only one treatment.
Why choose Highline Aesthetics for your CO2 laser skin resurfacing
At Highline Aesthetics, we understand that choosing the right specialist for your laser skin treatment is crucial for a long-lasting, happy result. 
Hence, we are committed to providing you with the best skin treatment available using specialized technology that renews your skin while making safety the top priority.
Whatever your skin treatment goal is, skin wrinkle removal or anti-ageing,  our commitment to providing natural improvements to your appearance sets us apart as your ideal choice for your CO2 laser skin resurfacing works.
Our Locations
You can find us in two locations in Colorado. If you would like to drop by for a one-on-one consultation, please visit any of these locations closest to you: 
Boulder location

Denver location

637 S. Broadway #P

Boulder, CO, US

5140 E 29th Ave

Denver, CO, US
FAQs
Is your CO2 Laser Skin Resurfacing safe?
Yes, our procedure is safe. Your safety is our number one priority. In addition, your skin treatment will be carried out by our team of certified physicians. 
How long does your treatment take, and how many sessions are required?
Depending on the size of the skin section to be treated, the procedure can take 15 -60 minutes. Experience shows that three to five sessions are required before the desired treatment success is achieved. 
The treatments are carried out every four to six weeks. Please consult with us for a more precise assessment of your specific treatment.
What should I expect during and after the CO2 laser skin resurfacing procedure?
During the procedure, you may experience minimal discomfort similar to what you feel while getting your teeth cleaned. Post-treatment, your skin will gradually rejuvenate. 
While some patients may experience results immediately, others will notice it more vividly after the skin heals, which can take up to 90 days for the face and up to 6 months for the neck, chest, and hands.
Results will continue to improve for up to 6 months post-treatment.
Is CO2 laser skin resurfacing painful?
CO2 laser skin resurfacing therapy does involve some pain. The level of discomfort you experience will depend on the depth and extent of resurfacing and your own pain tolerance. 
However, we ensure that you are comfortable throughout the whole procedure. 
What is the recovery time and process?
Post-treatment, patients may experience redness, but this fades over time.

You will also feel some tightness of the skin. Icing the treated spot for 30 minutes following the treatment.

Taking time off during the first few days of healing is recommended.

Glycolic, salicylic acid and topical vitamin A derivative creams must also be avoided for 2-3 days. 

You should only wash with cold or warm water on those days since hot water must be avoided in the treated region.

Three days after the therapy, your skin may feel very dry. We suggest you use a hydrating moisturizer that won't cause any irritations to keep your skin moist.

Avoid direct sunlight exposure for at least four weeks, and use sunscreen daily to prevent discoloration. 
Our specialist will give you a complete list of aftercare tips at your appointment. In 1-2 weeks, you should expect the treated area to heal with new layers of healthy skin.
How long do your CO2 laser skin resurfacing results last?
On average, after undergoing fractional laser resurfacing therapy, most patients experience silky-smooth skin that lasts between three and five years. 
Many patients maintain their treatments by returning regularly for touch-ups or supplementary skin treatments.
Does the CO2 laser skin resurfacing have any side effects?
Like any medical therapy, there are risks associated with CO2 laser skin treatment. Side effects can include redness, swelling, itching, slight risk of skin wound, and some skin discoloration, etc.
During your consultation, we will assess you to ensure you are the right candidate for the CO2 laser treatment.
Who is the CO2 laser skin resurfacing best for?
You may be an ideal candidate for CO2 laser skin resurfacing works if you have wrinkles or fine lines around your eyes, mouth, or forehead, scars from acne, and sun-damaged or advanced skin damage. 
If you have a very dark skin tone or active acne, you are not a candidate for this procedure.
Is CO2 laser skin resurfacing an effective option for treating fine lines and wrinkles?
CO2 laser resurfacing is great for getting rid of fine lines and wrinkles compared to other procedures. This treatment eliminates damaged skin layers and stimulates a healing response from the skin.
To learn more, read: 13 Reasons Why CO2 Resurfacing Leads in Treating Fine Lines and Wrinkles
Is the CO2 laser skin resurfacing worth it? 
Whether you're looking to treat scars, skin growths, or sun damage or just trying to give your complexion the rejuvenation it deserves, the CO2 laser skin resurfacing is certainly one of the most effective, non-invasive, safer-than-plastic surgery procedures available, providing long-lasting results.
How do I know if CO2 laser skin resurfacing is right for me? 
Although safe most skin types, CO2 Laser Resurfacing treatment is not for everyone. If you have a dark skin tone, it can cause permanent hyperpigmentation. 
Also, CO2 Laser Resurfacing is not for you if you are pregnant, a nursing woman, or someone taking blood-thinning medications, antibiotics, or immunosuppressants, which can increase your skin sensitivity to sunlight.
Other reasons exist why CO2 Laser Resurfacing therapy may not be for you, so please book a consultation with us to review your medical history so we can let you know if there are any limitations to your non-surgical treatment.